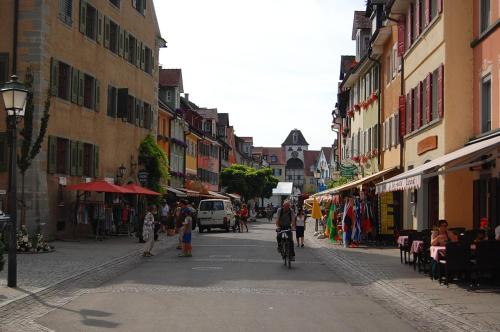 Quick description
The medieval-themed Mittelalterhotel-Gästehaus Rauchfang is conveniently located just 50 metres from the shores of Lake Constance. It is situated in the historic town of Meersburg. Major attractions such as the new baroque castle, the old castle, sauna and bathing area are all within a 250-metre walk from the property.
Free WiFi is available in all areas of this 4-storey that is part of the future Hotel King Dagobert. All rooms at Mittelalterhotel-Gästehaus Rauchfang feature unique medieval-style design as well as cable TV. Each has a private bathroom with a hairdryer and free toiletries. The staircase. lobby and rooms are all lit by wall torches and candlelight. Coffee and tea stations, an ATM and bicycle storage are all available in the hotel.
The nearby Flair Hotel zum Schiff offers a restaurant, ticket service and a tour desk. A full buffet breakfast is available at the nearby Flair-Hotel zum Schiff, only a 5-minute walk away, situated on the shores of Lake Constance, overlooking the lake and the island of Mainau. The lunch and dinner menu features regional specialties. Bar service in also available.
Connecting Meersburg with the town of Constance, the car ferry terminal is 1-minute drive away. Paid private parking is available on site. Friedrichshafen Airport is 20 km from the hotel.
Numerous cafes, wine bars and restaurants are located within a 5-minute walk from the property.
Important information
Please note that key collection, check-in and check-out take place at the Flair Hotel zum Schiff, 100 metres from the Mittelalterhotel-Gästehaus Rauchfang at Bismarckplatz 5.
Please note that construction work will be taking place nearby between the end of October 2018 and the end of December 2018. Construction work is scheduled to take place between 08:00 and 17:30 from Mondays to Thursdays, and no work is scheduled between Friday and Sunday. During this period there will be no parking places available directly at the hotel. Guests will be allowed to drive up to the hotel to unpack and then pack their luggage. Guests are recommended to use public car parking spaces during this period, and staff will help you on site. In case this inconvenience does not suit you, during the affected period the property will allow you to cancel your booking free of charge up to 7 days before arrival. Please note that the check-in and key-collection take place at: (Hotel zum Schiff) Bismarckplatz 5, 88709 Meersburg.